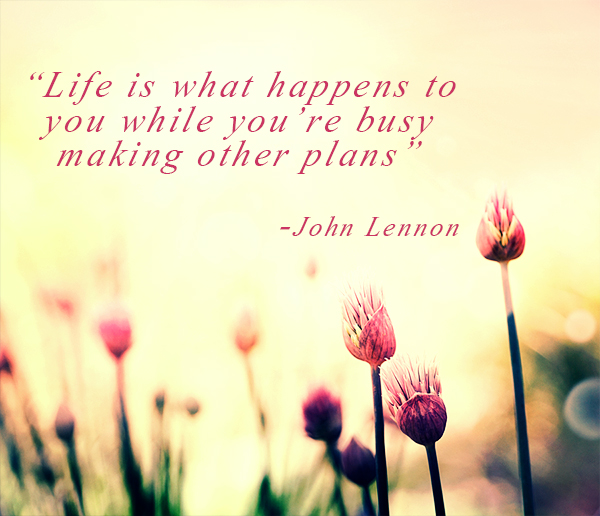 Is this quote talking to you?
Do you find yourself rushing from place to place, planning all the things you so urgently need to do and never 'having time' to appreciate the beauty around you. Or allowing special moments with your family, friends or your experiences in life pass by without, really paying attention?
If so, you might want to take time to stop or slow down every now and then. To start to take part in your life and to experience it, rather than just allowing it to happen (in the background), as you go by your day-to-day activities.
My dad said to me once (as I was dilly-dallying along in life with no real direction)…
'if you fail to plan, you plan to fail'.
At the time I didn't agree with him because I'd never made solid plans in my life, I'd always acted on desires that came from within to guide me (and I didn't feel like a failure so far). However, now that I consider his words again, I think I can see that he meant them in a similar way to what John Lennon meant the quote above.
John Lennon got it spot on and I believe that when he spoke of 'other plans', he was referring to the 'irrelevant' plans and thoughts that fill most of our time – things that don't move us forward in life, but that 'keep us busy' every day.
For example, lets consider Nutrition Revival. This is my blog and I have plans to move it forward and create great things through it. However this can only be done if I ensure that I make time for it. It's easy to become distracted and fill my time with things that make me feel 'busy', but are not actually helping me to achieve my desires. A good example of this is spending hours doing 'research' on facebook – it makes me feel busy, but it definitely isn't helping me to move forward and achieve my desires!
I believe John Lennon was referring to something similar in life. He either found from his own experience, or noticed in others, that people tend to rush around distracting themselves from real-life. It makes us feel busy, but we're not truly experiencing life, instead we barely notice as it passes us by.
Here are 3 steps I use to help me to stay present and truly experience life (and happiness) every single day:
Meditate daily.
In everything I do, I ask myself… 'Is this moving me towards my desires or away from them?'
Remind myself I always have enough time to do what needs to be done – therefore there's no need to rush anything.
D x
Do you feel like you're truly experiencing life? What's your favourite method to remind yourself of what's important? Please share below.